Pit & Wall Cladding
WBS – your 'one-stop' shop for gymnastics podiums, our range of pit, wall & stanchion cladding…available in colours other than red!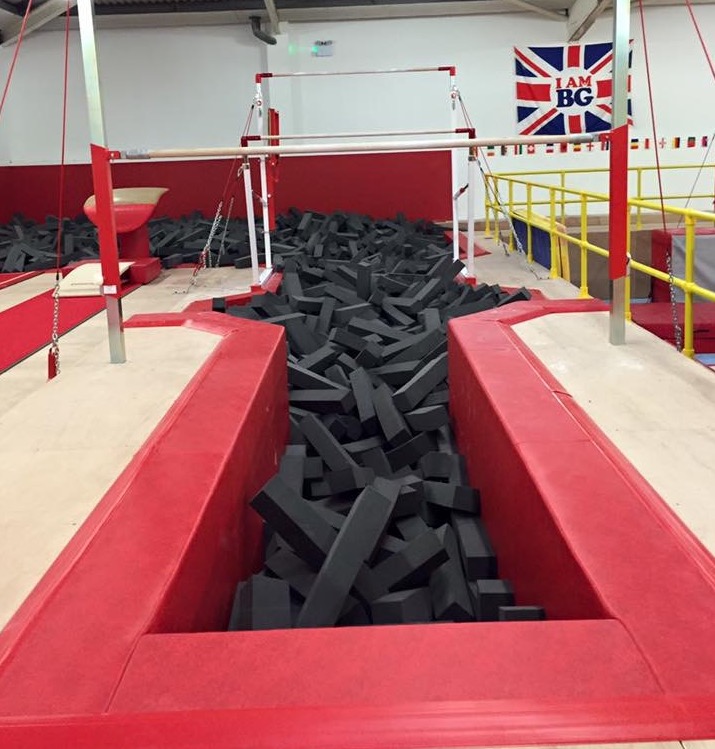 Pit Wall Cladding – Our standard finish for raised and sunken pits in 25mm PVC foam cladding, available in a variety of colours to match club/team theme and manufactured in sections to allow replacement in the event of damage. Typically, the cladding is fitted from the base foam (300mm high) layer inside the pit and finishes approximately 250mm-300mm on top of the podium floor and is finished with a PVC edging strip ensuring it remains secure in use and gives a smooth transition from podium floor to pit. 
Raised Podium Wall, Building Wall & Stanchion Cladding – We can supply and install PVC foam cladding or carpet foam cladding to cover any surrounding wall areas and stanchions as well as any exterior podium walls where floor equipment is located nearby. The thicknesses of the cladding vary between 25mm (PVC foam) and 35mm (carpet foam) and are both available in a variety of colours. Typically, we install the wall and stanchion cladding to a height of 1.8m or 2m above the pit floor level or existing building floor level.